3 T/D Pan Granulating Production Line in India
An Indian client asked how to turn his vermicompost into organic fertilizer. This client, an owner of a chicken farm, used earthworms to dispose of his chicken manure, but he could not find a way to profit from his vermicompost. We told him that it was a feasible way to make money from the production of vermicompost fertilizer granules. Our ideal clearly caught the interest of our client. The Indian client made a phone call to ask for more details about organic fertilizer production. We introduced each process of vermicompost fertilizer production and drew a 3 t/d pan granulating production line according to his needs.
A
n Organic Fertilizer Production Line with Small Investments
The annual output of our client's vermicompost was small, so we designed a mini pan granulating production line with a daily capacity of 3 tons. The production is short and small, equipped with 2 main vermicompost fertilizer making machines and other auxiliary equipment.
Though we chose a disc granulating machine for him, there was no drying machine or cooling machine on his production line, because it was more economical for the client to dry his fertilizer granules in a natural way. In addition, the client reused our suggestion of the utilization of a packaging machine to bag his vermicompost fertilizer granules. He said it was easy for him to bag them by hand.
3 t/d Pan Granulating Production Line in India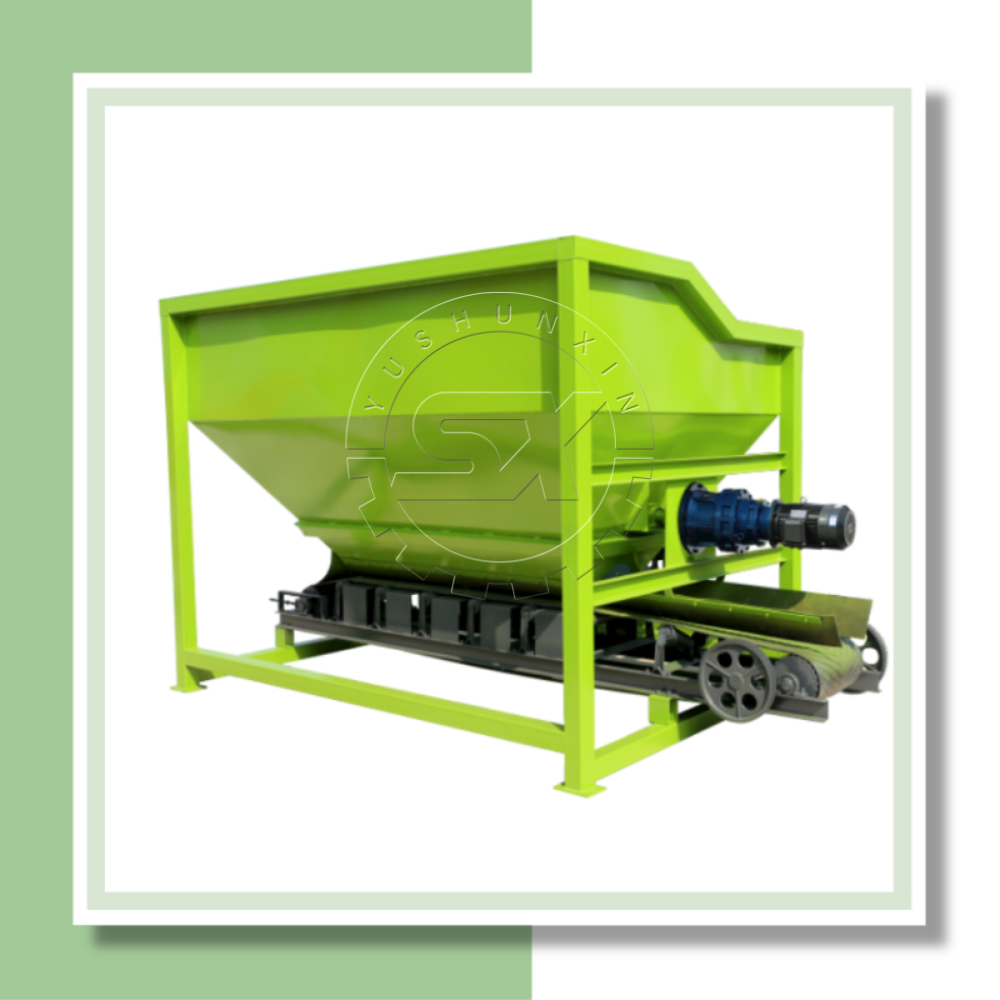 It is used to automatically feed your vermicompost. Of course, you can feed raw materials to your granulating machine in a manual way, but, you need to ensure the stable speed of feeding raw materials, or the granulation rate will drop. Hence, we suggest you use our auto feeding machine because of its ability to smoothly and stably feed, lowering your workload.
Yes. There are control bottoms to control the belt running speed to control material feeding capacity.
P
an Granulator for Vermicompost
To be honest, the pan granulator is the one that can meet the annual output of your vermicompost. As you know, we have 5 hot types of fertilizer granulating machines. A roller extrusion machine is designed for making compound fertilizer; a rotary drum granulating and a rotary churning granulator have a large hourly capacity; a flat die granulator has a high standard for the water content of your raw materials. Hence, we chose the SXYZ-1000, whose hourly capacity is 0.1-0.2 tons. It is small and compact.
First, it has a high granulation rate that exceeds 93%, improving the efficiency of your vermicompost fertilizer production line.
Second, it has a cleaning device that lowers the difficulty of machine maintenance.
Third, it has an open granulation pan that allows you to watch the whole process of granulating, and you can take action, such as adjusting the angle of the granulation pan, if the vermicompost fertilizer granules are not up to your standard.
Fourth, it has a small size, taking up a little room on our farm, about 1-2 m3.
It is 1-8 mm. You can change the size by adjusting the angle of the granulation pan or the water content of your raw materials.
It is Q235B boiler steel.
H
ow Much Does it Cost to Purchase the Whole Organic Fertilizer Production Line?
The price of the 3 t/d granulating line was about 9,300 dollars, which was beyond the budget of our Indian client. We told him that was the best price that we could offer to him, and that the prices of our machines would go up next month because of increasing production costs. After several rounds of negotiations, the buyers finally signed the contract and paid the deposit. Due to the pandemic, the organic fertilizer production line arrived at the port later than scheduled. Last week, the whole fertilizer production line was sent to our Indian client's farm. Our technical team instructed him to install and adjust the machine. Now, his first batch of vermicompost fertilizer is on the market.
To Get A Small Fertilizer Production Line