Cow Dung Composting Machine Exported to the Composting Plant in Qatar
A client from Qatar told us about his project of setting up a composting plant. There were few commercial cattle farms in the local region. Every day, they produce a large quantity of cow dung. The customer signed contracts with their owners to obtain a stable source of cow waste. He had a plan to compost cattle manure and make it into organic fertilizer granules for sale. To achieve it, the client needed a commercial cow dung composting machine and a full organic fertilizer production line. But, where could he buy the equipment? The advice from other local fertilizer makers brought the client to us, an international supplier of cow dung fertilizer making machines. Therefore, the customer sent the details about his project and asked for an ideal solution for setting up his cattle manure composting plant.
W
hat Cow Dung Fertilizer Machines Does the Client Need?
In the email, the client said, "…We are looking for a composting plant for processing cow manure. We have about 250 tons of fresh cow dung daily and its moisture is about 80% to 65%…" Usually, the ideal moisture of fresh cow dung for composting is about 55%-65%. When the water content is higher than that, the temperature of your cow dung compost is likely to rise slowly, leading to the failure to sanitize the compost. Therefore, we suggested the client buy the SXTSX-1200, a commercial cow dung dehydrate machine. It can separate the manure from the urine, reducing the moisture of fresh cow dung from 80% to 60%. The liquid, if processed properly, can be used to generate biogas.
W
hich Type of Cattle Manure Composting Machine Should the Buyer Choose?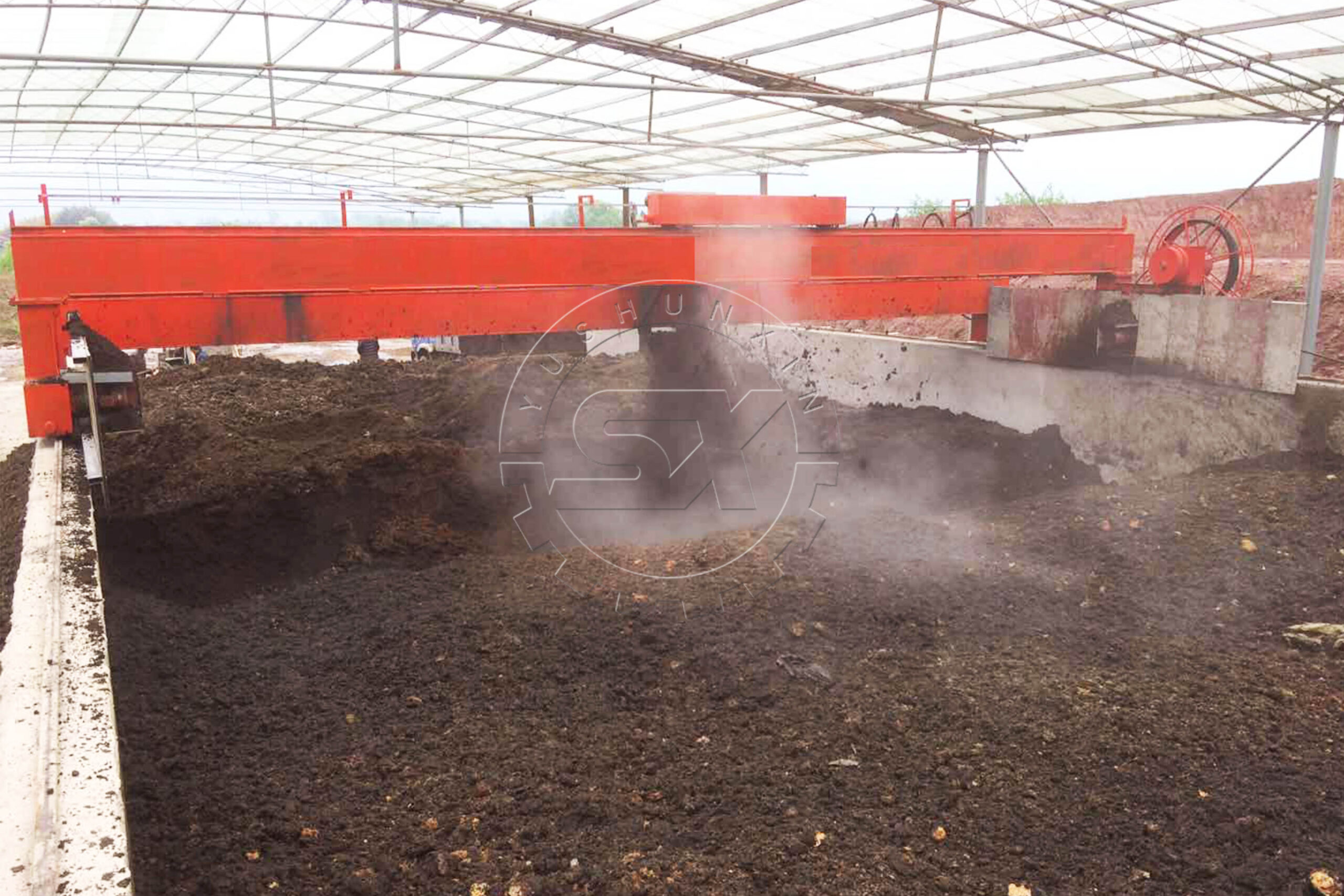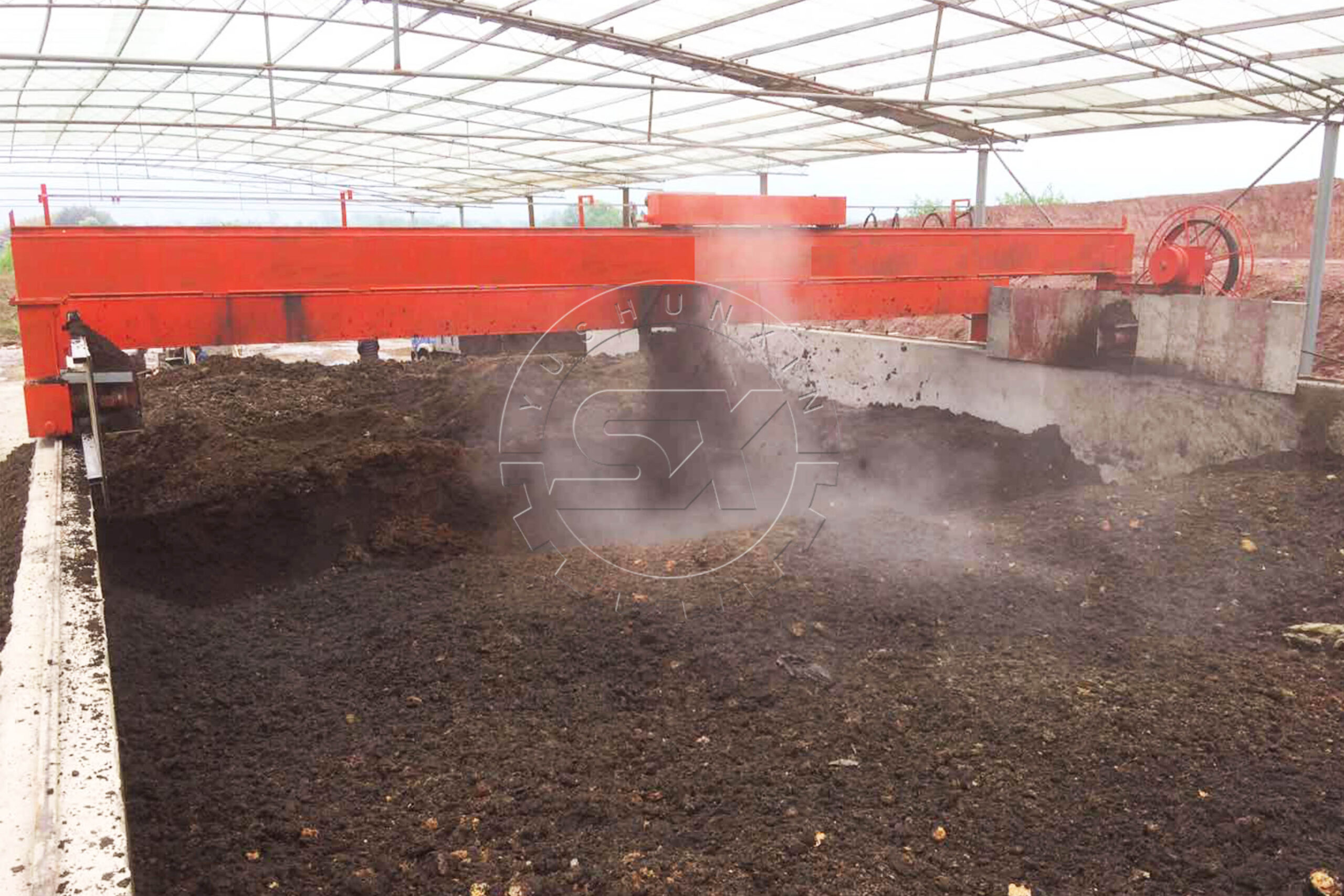 Considering the huge amount of fresh cow dung, it is more efficient for the client to use a large-scale composting machine. Our commercial cow dung composting machine is an ideal choice for commercial composting plants. It has a wide turning span and depth, about 30 m and 3 m, respectively. That makes it possible for the buyer to make millions of tons of cow dung compost.
H
ow to Use a Commercial Composting Machine to Make Cow Dung Compost Fast?
Our cow dung compost turner is one of the groove type composting machines. You need to establish a large groove with 3 walls for stacking cow dung. Then, you should use a forklift to put all your dewatered cow dung in it. Please make sure the depth of cattle manure compost should be within the range between 1.5 m and 3 m. Actually, you do not need to manually operate the cow dung composter during the process of composting. With the help of a moving device, the composter can move forward stably when its turning teeth aerate cow dung compost. After 20 days, you can get well-composted cow manure.
According to the layout of the client's plant, we drew a design of a composting groove for the commercial cattle manure composting machine. The client can find an engineer in the local area to establish the groove.
1
0 t/h Cow Dung Fertilizer Production Line
At the end of the email, the buyer mentioned that he wanted to pelletize the cow dung compost and make it into granular fertilizer. Hence, we customized a cow dung fertilizer production line for him. In the process of composting, the amount of cow dung will go down due to the active decomposition of microorganisms. Usually, you can get 0.5 tons of compost out of 1 ton of fresh cow dung. Provided that there are 7,500 tons of fresh cattle manure, the client will get at least 3,750 tons of organic fertilizer powder waiting to be granulated. That's a huge quantity of raw materials
Hence, we introduced our 10 t/h cow dung fertilizer production line. It has a large granulating machine for cow dung (the SXZGZ-2080), which can produce 8-15 tons of cow dung fertilizer pellets. The whole production line has all the cow dung fertilizer making machines, including a horizontal crushing machine, a rotary screener and a rotary drum dryer. Controlled by an electrical cabinet, it produces cattle manure fertilizer granules automatically, requiring fewer workers to operate and maintain it.
To Get Cow Dung Composting Machines for Your Farm